TRUMP establishes Space Command, defends US interest in space
Trump says the U.S. will now treat space as an independent region overseen by a new unified geographic combatant command.
President Trump formally announced the re-establishment of the U.S. Space Command on Thursday after a 17-year absence as his administration focuses on concerns about the vulnerability of U.S. satellites.
« Just as we have recognized land, air, sea and cyber as vital warfighting domains, we will now treat space as an independent region overseen by a new unified geographic combatant command, » Trump said during a ceremony at the White House Rose Garden.
The Senate confirmed Air Force four-star Gen. John « Jay » Raymond to lead U.S. Space Command this past June. He has been leading the Air Force Space Command.
TRUMP ORDERS ESTABLISHMENT OF 'SPACE FORCE' AS 6TH BRANCH OF MILITARY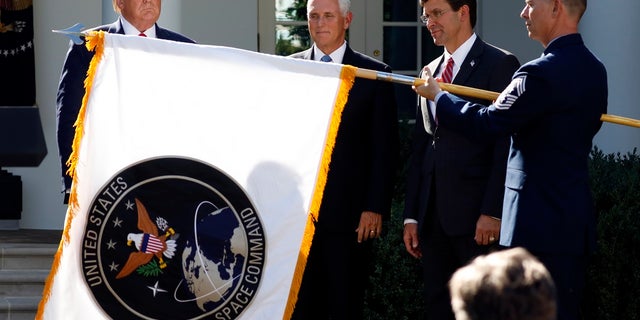 President Trump watches with Vice President Pence and Defense Secretary Mark Esper as the flag for U.S. Space Command is unfurled Thursday. (AP Photo/Carolyn Kaster)
The new Space Command is expected to draw on other parts of the armed forces.
« Unfortunately, our adversaries have had a front row seat into our many successes and have seen the advantages that they provide us, » Raymond said during his Senate confirmation hearing. « And, to be honest, they don't like what they see., and they're rapidly developing capabilities to negate our use of space and to negate the advantage that space provides. »
Space Command existed from 1985 to 2002 when it was dissolved as part of the government's post-9/11 reorganization. Trump said the agency will « ensure that America's dominance in space is never questioned and never threatened. »
SPACE FORCE WOULD BE BY FAR THE SMALLEST MILITARY SERVICE
The renewed focus on space has reflected concerns about the disruption of American satellites from Chinese or Russian weapons.
« This is a landmark day, » Trump said. « Space Command will boldly deter aggression and outpace America's rivals by far. »
The role of the new Space Command is to conduct space operations such as enabling satellite-based navigation and communications for troops and commanders in the field and providing warning of missile launches abroad.
That mission would differ from the Space Force, which would be America's sixth military branch and would require Congressional approval. The force, which has garnered Trump some ridicule, would train and equip space operators.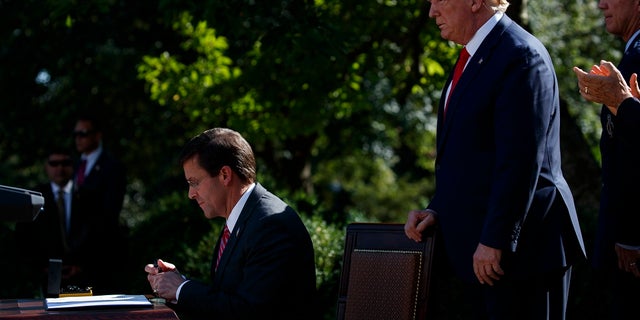 President Trump watching as Defense Secretary Mark Esper signed a document announcing the establishment of the U.S. Space Command. (AP Photo/Evan Vucci)
Former Defense Secretary Jim Matthis was hesitant to support such an idea. Mark Esper, the current defense secretary, has been a strong supporter of a Space Force, saying it would « ensure the protection of America's interests in space. »
He said Wednesday, « As a unified combatant command, the United States Space Command is the next crucial step toward the creation of an independent Space Force as an additional armed service. »
Those in Space Force would be assigned to missions directed by Space Command, just as members of the Army and other services are assigned to an organization like U.S. Strategic Command.
CLICK HERE TO GET THE FOX NEWS APP
Lawmakers are expected to discuss bills in the House and Senate on the creation of a Space Force when Congress returns from its August recess.
Space Command likely will have little impact on how the military handles its responsibilities in space. The Air Force Space Command has dealt with most of the military's space mission and is expected to hand off only a few of those responsibilities to the new command.
Source : Fox News, Associated Press, US K1FO NEWS